Turkish Wooden Gulet
Turkish Wooden Gulet
A lot of people are still interested in the classic design of the Turkish gulets for sale! Classic steel hull gulet design with luxury interior has been a fancy for many of the blue waters' lovers and enthusiasts.
This is what distinguishes the Turkish wooden gulet! Her design has been derived from the heritage of the Turkish Mediterranean and Aegean seas. This keel vessel has attracted thousands of holidaymakers every year!
Not only cruisers but also customers and gulet/yacht owners have been attracted by the Turkish wooden gulet and decided to charter/buy her. These gulets were built in Turkey since the first dawn of tourism history started in Turkey!
We can help you get your Turkish wooden gulet at the best pricing possible and we would like to invite you to pay us a visit to Turkey to see your vessel in person! This is what we always advise our clients of for them to make sure that they are not dealing with scams.
Some fake selling operations were done in different parts of the world and we look forward to protecting our clients' interests in the best ways possible.
Actually, what we first urge our customers to is to come to our company in Turkey to accompany them to see their gulet, or accompanying them to the boatyard if they have intentions to build a new gulet out of their own design.
Turkish Wooden Gulet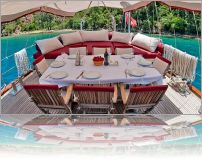 Turkish Wooden Gulet
wooden gulet