Sailing Yachts For Sale
Sailing Yachts For Sale
Sailing yachts for sale is our concept and we regret to inform you that we don't cater Bareboat sales services since that is totally different business concept than our crewed sailing yacht for sale.
We promote numerous classic and modern performance sailing yachts in our portfolio and if not satisfied with none of the sailing yachts for sale which we have proposed then why not build your own taste design and size with our modern and world-class quality yacht building Boatyard in Bodrum.
We are a group of professional captains dedicated to serving the blue water tourism and industry.We are a based company in Fethiye/Turkey who has been offering luxury sailing yachts for sale service for decades. This service is with MYBA contracts accompanied by our hospitability that you will see as soon as you are in Turkey!
Our sailing yacht for sale is quite ready with a professional crew that is qualified to serve clients with careful attention and experience.
Our luxury yachts are crewed and ready at any time to sail across the endless oceans to satisfy customers' curiosity about cruising and exploring new lands.
Our clients who previously happened to deal with our company as sailing yachts for sale customers know very well that honor and truthfulness are first, and we keep our words which make our clients keep in touch with us for any problem that they might have while on board of their yachts even after they buy the yacht herself.
Sailing yachts for sale is the right decision that you should make before it is too late for you.
The season is coming very soon and the prices are getting higher and higher!! So many people prefer to sell a luxury yacht to take advantage of the season that is about to start. June and August are the top seasons for running such a business.
Paying us a visit to Turkey is welcomed on our part.
This visit will definitely enable you to check that your sailing yacht for sale is quite in good condition, and for you to check that you are not dealing with spam or paying your money to whom you do not know or to whom, you have never met before.
Our high tensile steel yachts are seaworthy deserving a free trial on board when you finally decide on one yacht for sale from our portfolio.
When checking our portfolio, you will see hundreds of yachts with different lengths and consequently different prices, so that you can choose one yacht which is suitable in size and quite affordable for you.
You would love to try hulls made out of epoxy laminated mahogany that is quite high-quality wood for yacht building.
These mahogany yachts would be a good option for your sailing yachts for sale. Or you might be interested in GRP hulls which are of majestic appearance to anybody who has a taste of beauty and evaluation.
You can discover more when checking our portfolio and you can learn more about other features and amenities on board your sailing yacht. You can call us when having an inquiry so that we can feed you back with the option that best suits your demands.
Sailing yachts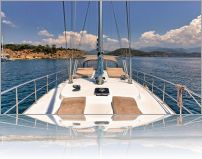 Sailing Yachts
Sailing yachts for sale
Sailingyachts