Gulet Building in Turkey
We have long experience in gulet building as well as used, preowned, wooden yachts for sale such as traditional Gulets, Steel, Aluminium or composite GRP . we prescreen yachts when offered to us for sale in order to protect our clients to make sure the yachts are valued as much as the asking price otherwise we drop them off from our sales portfolio. We have served many satisfied customers either buying or selling with us, Our organization has sold many classic Turkish built wooden gulets, motor sailors to Italy, France, Spain, Croatia, Dubai and Thailand.
we provide Yacht delivery services with experienced crew when yachts sold overseas. If you are considering a traditional standard or luxury gulet built by carvel planking system or cold moulded epoxy laminated system, We would like to share our experiences with anyone who is interested, since we have started from the very beginning as seaman later captain and yacht builder and we have helped new gulet buyers and first time builders with our many years of accumulated experiences.
It is very important the kind of wood used in construction for the gulet you are interested, The age is also an important issue, the engine, propeller, shaft and their installation is also very important, the hydraulic systems, electric installations, masts, chrome wires, winches, sails and ropes, everything has to be studied, expensive material and craftmanship makes a difference but who built her and what kind of hull is much more important than her interior design and furnitures. You need to make sure that she is the one which may fulfill your dreams and the gulet you are buying will respond to your expectations. so please donot hesitate to contact us before buying Gulets for sale so that you donot commit an error of buying something which is not convenient for you.
Gulets For Sale in Turkey.
If you prefer to buy a preowned luxury gulet for sale then you came to the right place… we only undertake listings and promoting of such gulets which are worthed the asking price, this means we prescreen each and every gulet before accepting them into our sales portfolio in order to maintain the trust and confidence which we have built during all those years.
we throughly check and screen all the details of such gulets and even talk to her builder at the boatyard in order to entertain our clients who trust our expertise with maximum information and to make Because we care about our clients being confortable and confident with us for the years to come.
Luxury Bodrum Gulets For Sale.
You might wonder why on earth those Bodrum gulets are so beautiful and so popular ?
to answer this question, one has to go back and have a look at the Gulet builders and gulet tourism background in Bodrum, where classic wooden gulets for sale are one of a kind and are very spacious and confortable, every time they build a new gulet, they apply the same meticulous construction and are always updated with new technological advances, Bodrum gulets for sale are built very strong and seaworthy and are always superior when compared to Bozburun or Marmaris built gulets for sale
Steel Hull Gulets For Sale
Steel hull gulet and ketch rigged steel yachts are stronger and have an advantageous maintanence compared to wooden gulets, However classic gulets built with epoxy laminated wooden hull is much more nostalgic and warmer.
the personality and cosy charm of a wooden gulet cannot be expected in a steel gulet however the seaworthiness and ease of repair of steel gulets are superior to wooden boats. furthermore steel gulets are more spacious than a same size wooden gulet due less space lost during construction. nevertheless the price and the design of a desired yacht is the main issue when it comes to make a final desicion. Gulet building in Turkey
Epoxy Laminated Wooden Gulets.
Istanbul built gulets for sale and ketch rigged yachts have always been distinctive from the rest of the southern built gulets with their design and quality craftmanship. which is obvious to anyone who understand interior design and modern aestethics. The leading gulet design and modern construction imposed by Istanbul boatyards has been appreciated and even surpassed by Bodrum gulet builders.
the steel hull construction has lately became very popular due its durability, strength and ease of maintanence has made steel hull yachts preferred by many enthusiasts. as an important alternative to classic carver planking built gulets with boatyards having more orders from abroad mostly asking for steel hull yachts. lately Istanbul boatyards are working with very successfull designers and ship building engineers to create world class and very high quality luxury yachts. Gulet building in Turkey
Marmaris Built Gulets For Sale With Convenient Prices.
Marmaris boatyards has been booming since 2002 with gulet construction which are the favorite ones of Croatian yacht charter agencies and also russian clients who are seeking luxury gulets for sale. since the croatian buyers prefer the classic wooden gulets and bought numerous marmaris gulets with quite competitive prices, the marmaris boatyards then commenced building more sophisticated and luxury yachts of new generation that marmaris still happens to be leading with gulet exportation to neighbouring mediterranean countries, egypt , seychelles and also to Thailand.
Fethiye Built Luxury Gulets for Sale
We have included several Fethiye built quality gulets in our sales portfolio , the flat deck fethiye gulets are much more spacious and are built with epoxy laminated wooden (west system epoxy) that can be build up to 10 cabins which are mostly preferred by cabin charter agencies. Fethiye built gulets for sale can be upto 45 meters in length and they offer much more fresh water capacity and provision storage space in order to carry out longer yacht charter holidays in Turkish coastal waters and greek islands. meanwhile these luxury gulets are being built with twin screw and twin generators not to mention fully air conditioned confortable cabins and state of the art luxury accomodations. Gulet building in Turkey
The hull building materials also has been updated with new design and new age materials such as HST (high tensile steel ) marine grade Aluminium ( 5000 and 7000 series aluminium alloys ) composite GRP and the interiors are made of top of the line quality timbers such as teak , mahogany, acajou and similar tropical hard woods. The sailing gears are rigged using space technology and 316 L stainless steel such as rods, wires, shuckles and fasteners.  Turkish Gulet for sale and gulet building industry is leading the way to new generation large and luxury motor sailers gulets which can be called goelettes, goletas, gullets, gulets and also caique or caicco in latin languages. gulet for sale
Gulet for sale vary depending on number of cabines and/or owner's choice of spacious  designs to compete with luxury motoryachts and considering the sailing capacity of the gulet for sale they are superior in many ways to motoryachts with their long cruising range with motor and the sails and high stability advantages due to their long keel. gulet for sale
If you are looking for a Gulet for sale please feel free to consult with us, either new building or preowned, we can show you as many alternatives as you wish to see and make sure we have a gulet for sale which may fulfill your expectations. Gulet building in Turkey.
Gulets Building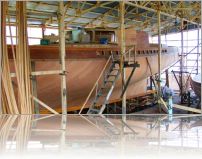 gulet build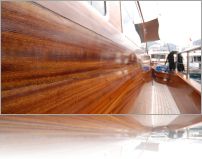 Gulet Building
Gulet Building Turkey